On May 23, students, friends, and family joined the Princeton Economics Department on campus to celebrate Class Day 2022. The ceremony in McCosh Hall was the first in-person Class Day since 2019, and was a wonderful opportunity to recognize the exceptional accomplishments of the 123 seniors graduating from the department. 
During the ceremony, 83 students in the Class of 2022 were acknowledged for earning certificates from other university-wide programs, including six students who earned the Certificate in Political Economy, which is offered jointly with the Department of Politics, and 43 students who earned the Certificate in Finance. The Certificate in Finance is offered jointly with the Department of Operations and Financial Research through the Bendheim Center for Finance. 
Economics Department Chair Wolfgang Pesendorfer also awarded seven students with Senior Thesis Prizes–prestigious awards granted each year to students with exceptional final research projects–and acknowledged several faculty and graduate student advisors that supported this year's seniors throughout their academic journey at Princeton.
At the conclusion of the ceremony, Vignesh Panchanatham was celebrated for receiving the Halbert White '72 Prize in Economics. The prize is awarded annually to the most outstanding senior economics major, as evidenced by excellence in department coursework and creativity in their Junior Paper and Senior Thesis.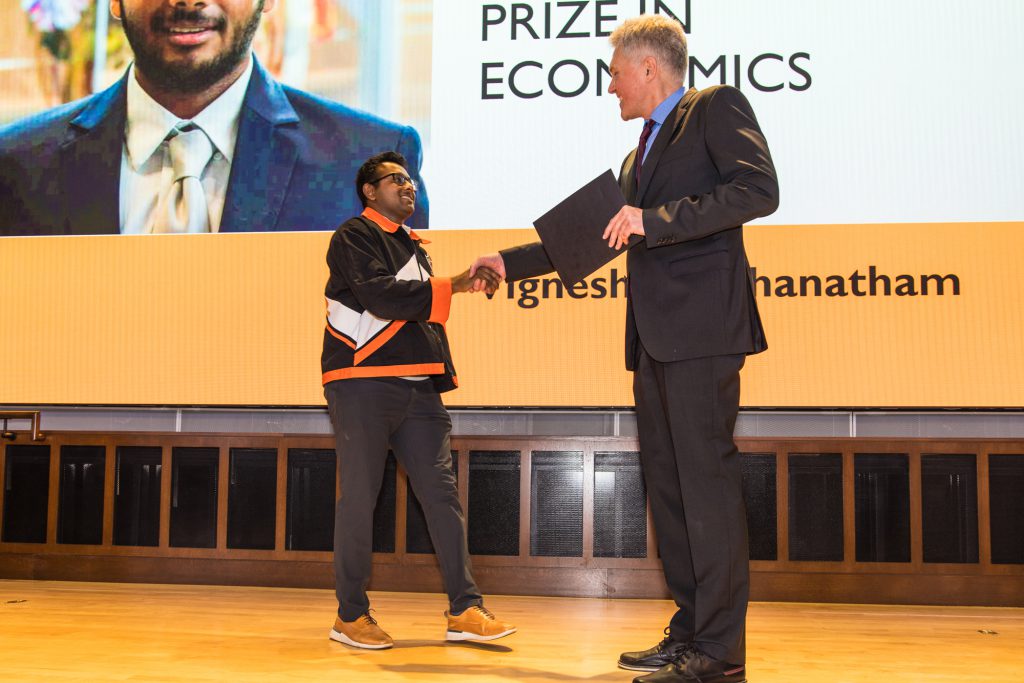 "Vignesh forged an intellectually challenging path throughout his Princeton Economics education by consistently taking and mastering demanding courses and excelling in his Junior Independent Work and Senior Thesis," said Pesendorfer.
Senior Thesis Prize Winners
Gio Kim


John Glover Wilson Memorial Award: Best Thesis on International Economics or Politics




Advisor: Ellora Derenoncourt



Sharon Frankel


Walter C. Sauer '28 Prize: Most Creative Thesis on Any Aspect of Foreign Trade




Advisor: Gene Grossman

Caren Ju
Co-Winner, Dan I. Rubinfeld '67 Prize in Empirical Economics: Best Thesis in Empirical Economics
Advisor: Joan Monras
Zachary Shevin
Co-Winner, Dan I. Rubinfeld '67 Prize in Empirical Economics: Best Thesis in Empirical Economics
Advisor: Andrea Wilson
Seema Gupta
Elizabeth Bogan Prize in Economics: Best Thesis in Health, Education, or Welfare Economics
Advisor: Tianyi Wang
Diego Chiriboga
Burton G Malkiel '64 Senior Thesis Prize in Finance: Most Outstanding Thesis in the Field of Finance
Advisor: Christopher Neilson
Sungho Park
Wolf Balleisen Memorial Prize: Best Thesis on an Economics Subject Written by an Economics Major
Advisor: David Schoenherr
Graduate Student Teaching Awards
Lukas Althoff

, for helping students working on junior and senior independent work "cultivate love for their research topics."   

Jose Luis Cruz Alvarez

, for his "exceptional teaching skills" while precepting ECO 353: International Monetary Economics.

Dan Morrison

, for his "off the charts" teaching with ECO 101: Introduction to Macroeconomics.

Rachel Fung

, who "worked tirelessly for her students" in ECO 312: Econometrics: A Mathematical Approach.

Jordan Richmond

, who went "above and beyond the call of duty" in developing new material for ECO 343: Economics of Inequality and the Role of the Government.

Rafael Schwalb

, who "put his heart and soul" into making sure students got the most out of ECO 301: Macroeconomics.
Faculty Teaching Prizes
Professor Ilyana Kuziemko

was awarded the Harvey Rosen Teaching Prize. Kuziemko was nominated by her students in ECO 343: The Economics of Inequality and the Role of the Government. "She was great at connecting some heavy theory with really interesting empirical work," one student commented. "And she showed us how they impacted the real world."

Professor Gene Grossman

was awarded the Harvey Rosen Advising Prize for his dedication to advising students on their senior theses. "Gene could not have provided me with a better thesis experience," one student commented. "He is not only a stand-up thesis advisor, but he's also a great mentor and confidant."
The Griswold Center for Economic Policy Studies also awarded prizes to acknowledge the five best policy-relevant theses. Those prizes went to Nelson Dimpter, Yu Jeong Lee, Emily Philippides, Ana Pranger, and Caroline Skinner.
In addition to this year's Senior Thesis Prize winners, the department congratulated two students whose senior thesis projects were acknowledged by other programs at the university. Katherine Ross earned the Environmental Studies Book Prize in Social Science from the Program in Environmental Studies. Ana Pranger was the second place co-winner of the Suzanne M. Huffman Memorial Senior Thesis Prize Award from the Program in Gender and Sexuality Studies.
The department extends its gratitude to everyone who helped make Class Day 2022 a huge success. 
All photos credited to Dan Komoda, Eyesquid Photo.