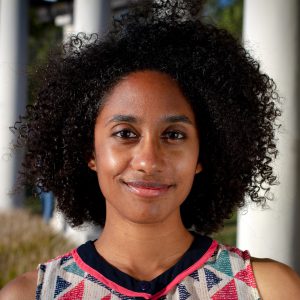 When Ellora Derenoncourt first came to Princeton as a postdoc in the Industrial Relations Section in 2019, she felt she was "coming to worship at the temple of labor economics." 
As an undergraduate student active in labor organizing who then earned a Ph.D. to study labor and equity issues academically, Derenoncourt said she relished the opportunity to work alongside so many faculty whose research helped inspire her career path. 
As it turns out, the admiration was mutual. This academic year, Derenoncourt is joining the Economics Department and the Industrial Relations Section as an Assistant Professor of Economics.
"We are all so excited to welcome an innovative thinker like Ellora to our group," said Leah Boustan, director of Princeton's Industrial Relations Section.
"Ellora is at the forefront of engaged labor economics, studying issues that matter for the world today like the racial wealth gap and minimum wage policy. But she also brings deep knowledge of the historical roots of these issues—something that is critical to growing our understanding of entrenched inequities."
In addition to her teaching and research activities, Derenoncourt will spearhead the development of a new research center within the department to advance the study of inequality. The group will not only serve as a hub for researchers at Princeton and around the world, but create new opportunities for students to learn about how researchers can use economics to study important issues in social justice.
"I'm so excited to come back to this incredible community of labor economists whose work I've admired for so long," Derenoncourt said of her return to the Industrial Relations Section. "It will be a wonderful place to grow and learn from my new colleagues."
Shedding new light on fundamental economic questions
Derenoncourt's research focuses on labor economics, economic history, and the study of inequality. Much of her work uses groundbreaking approaches to expand our knowledge of racial inequality in the United States.
"By studying the Black experience, we can better understand some of the most fundamental questions in economics," she says. This includes questions about economic migration, equality of opportunity, and classic issues in labor economics like the effects of wage policies. 
In past work, Derenoncourt illustrated how increases in the federal minimum wage reduced wage gaps between Black and White Americans. More recently, she's shown that voluntary wage hikes by companies like Amazon and Wal-Mart, resulting in part from pressure by labor rights groups, can have large spillover effects, boosting wages paid by other employers in the same commuting zone. 
Her work also includes a colossal effort to assemble previously unavailable historical data on racial inequities. Derenoncourt is currently part of a team working to fill in 100 years of data on the racial wealth gap in the United States by archiving state tax records and linking Census records over time. 
"We need history to understand the magnitude of the racial wealth gap today," she says. "And when we put the pieces together, we can see that the racial wealth gap today is a direct result of slavery in the United States."
Derenoncourt's path to economics
As a Ph.D. student at Harvard, Derenoncourt studied under some of the most influential names in labor economics, including Claudia Goldin and Larry Katz, both of whom she admires deeply for how they've contributed to our understanding of contemporary topics by exploring trends in history. 
But Derenoncourt's path to studying economics at the Ph.D. level was fortuitous. 
"It happened because of chance encounters," she said. "I was interested in questions of inequality and social justice, but I also liked math and science and didn't know how to combine the two. I never considered economics, which I associated with working in finance or banking. It took chance meetings with mentors like Leah Boustan and others, who introduced me to a whole other side of economics research that's about using a set of tools to answer any question that you're interested in." 
As an undergraduate student, Derenoncourt says, she didn't see a path for studying questions of social justice using economics. In establishing a new group at Princeton to study inequality, she hopes to introduce more students to this possibility earlier in their careers. 
"I hope that with the new center on inequality, I can reach the person I was ten years ago. I want to show students that you can use economics as a tool for equity, and it's actually a really powerful tool because policymakers listen to economists. Maybe you're interested in anthropology, but you have a hankering for math. If so, there is a space for you here in economics."
Derenoncourt says it took her years to find the path she's on today, and she hopes to save future generations time by exposing them to economics in a systematic way. 
In the meantime, the Industrial Relations Section and the entire Economics Department welcomes Derenoncourt back to Princeton, and looks forward to working alongside her in the years to come.