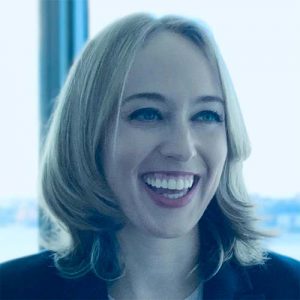 Sarah Nagy has always felt drawn towards technology and finance. In high school, she became obsessed with trading after a paper-trading competition in her economics class piqued her interest. This fascination with business economics, coupled with an innate curiosity for the workings of the world, led her to start her career as a quantitative analyst.
After joining Princeton BCF's Master in Finance program, Nagy found a new realm of interest through classes about big data analysis and machine learning techniques. These courses offered creative solutions to many of the problems she would later encounter as a quantitative analyst at ITG, ultimately inspiring her to transition into a career in data science. In her most recent role at Citadel's Ashler Capital, Nagy worked with data to develop alpha generation investing ideas, covering healthcare and consumer equities.
Nagy has since also become involved in the startup community in New York City. She is now the founder and CEO of a startup called Seek AI, which is building a natural language-focused business intelligence product. Energized by the ways in which AI is growing ever more intelligent and more efficient, she hopes to make data more accessible and use AI data assistants to make people's careers more fun and fulfilling—just like her own.
Recently, Lindsay Bracken, BCF's Manager of Career Development, Alumni Relations, and Corporate Affiliates, caught up with Nagy to chat about her path since graduating from Princeton and the problems she is looking to solve with the help of AI.
If you're a Princeton BCF alumnus who's reached a milestone in your career, we'd love to hear from you. Reach out to Bracken (lbracken@princeton.edu) to stay in touch and tell your story.
Bracken: Why did you decide to pursue a Master in Finance degree, and what about the program at BCF particularly appealed to you?
Nagy: In college, I double-majored in business economics and astrophysics. I eventually realized that this combination of interests aligns well with what quantitative analysts do. After interning with a team of quants at an asset manager, I decided that I wanted to train to become a quant by enrolling in a Master in Finance program. When I researched Princeton's program, what stood out to me was the small class size, the structure of the core and elective classes, and the ability to enroll in what is now the Data Science & Financial Technologies track. Many of the course offerings stood out from other programs—for example, the behavioral finance class (FIN 568) was particularly interesting and unique to me when I was applying.
Bracken: Have any courses at Princeton proven to be particularly helpful or memorable for supporting your career as a full-time quant?
Nagy: When I started my career as a quantitative analyst, I was solving problems involving large datasets that contained high-frequency trade and quote data. I recognized that some of the machine learning techniques I had learned in one of the electives I took as an MFin could solve these problems very effectively. The class was ORF 350, and I believe that when I took it, it was being offered for the very first time. Machine learning was not terribly mainstream yet, so the techniques I learned from this class seemed cutting-edge and experimental, which I found absolutely thrilling.
Bracken: What motivated you to start Seek AI? What problems are you hoping to solve within data science and analytics?
Nagy: I started Seek AI because I envisioned a business opportunity forming from two converging trends. First, the process of working with data in an organization is constrained by the data science team, which must field questions from business users within the organization. This arrangement can be inefficient because simple questions can take a long time to answer, and these questions distract data scientists from their projects. Second, AI has been rapidly getting better at writing code. There are some code-generation benchmarks that even state-of-the-art models could not solve last year, which they can solve today with remarkable accuracy. Putting these trends together, I predict that the future of data science will likely involve working with an "AI data assistant" that can instantly answer questions about data.
Bracken: What has been the most unexpected or valuable lesson you have learned since founding your own startup?
Nagy: The most valuable lesson that I have learned since starting Seek is that multitasking is an essential skill to develop as a startup founder. As a quant and as a data scientist, my job was essentially to perform research all day, which meant that intense focus on a single problem for long durations of time was necessary—when I worked as a quant, many of my peers worked on projects that lasted over six months. Now, as the CEO of a startup, it is my job to both create our product and talk with customers. Initially, it was my instinct to assume that I would spend a few weeks at a time building before shifting gears to talk with customers. However, I quickly came to learn that each of these pieces depends on the other, which means the company progresses more quickly when both pieces improve at the same time.
Bracken: Where do you see AI going in terms of the future of data science and business?
Nagy: I've been incredibly impressed with how quickly large language models have advanced in the last couple of years, especially when it comes to writing code. In the future, I predict that many people who work with data will look back and marvel at how many mundane tasks took up their day, or recount how it took several hours to get a basic question about data answered. As AI starts to help with this kind of work, working with data will become more fun and fulfilling for more people because it will be easier to solve the business problems that really matter.
Bracken: What advice do you have for current or future Master in Finance students as they look toward the next step in their career?
Nagy: My advice would be to take advantage of this extraordinary opportunity to immerse yourself in the MFin curriculum, because you will build on this foundation for the rest of your career. After graduation, my advice is to continue learning in any way you can. As technology improves, those who are the first to learn about it will have access to unique investment and business opportunities. I would also recommend participating in a hackathon. My first hackathon changed my life because it taught me that prototypes can be built in only a day or two. Learning to think like this broadened what I imagined was possible to achieve in a week, in a month, in years.
If you are interested in learning more about Seek AI, join their waitlist or reach out to Sarah at sarah@seekwhatmatters.com.