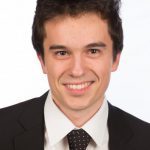 Growing up in the south of France, Enzo Fiorentino nurtured a love for numbers and all things quantitative. That love eventually led him to study applied mathematics and physics at Ecole Centrale Paris—and it was that passion that, as someone eager to learn even more and continue to expand his skillset, to Princeton BCF.
Upon joining our Master in Finance program, Fiorentino was impressed by both the extracurricular opportunities available to him and the devotion of BCF's professors and staff. After a summer internship with BNP Paribas in New York, he joined the company full-time as a delta one trader on the Equity Derivatives team in 2018 and now manages the liquid books in d1 (SPX, NDX, etc.).
In this short interview, Lindsay Bracken, BCF's Manager of Career Development, Alumni Relations, and Corporate Affiliates, talks to Fiorentino about his time at Princeton and how he stays involved as a proud BCF alumnus.
If you're a Princeton BCF alumnus who's reached a milestone in your career, we'd love to hear from you. Reach out to Bracken (lbracken@princeton.edu) to stay in touch and tell your story.
Bracken: Why did you decide to pursue a Master in Finance at BCF? What attracted you to Princeton's program specifically?
Fiorentino: As I was finishing my education in France, I felt the need to take more applied courses in order to transition smoothly from the academic world to Wall Street. In addition to its reputation as a renowned research institution that offers an excellent quality of education, Princeton BCF seemed to be the perfect place given the diversity of professors' backgrounds, with some of them still working on Wall Street. Because of the small size of the program, I knew that they would be easily available to the students and that we would form a small family of mentors and mentees.
Bracken: What courses, people, or experiences at Princeton BCF were most valuable in preparing you for the next step in your career path?
Fiorentino: I feel like all the courses I took have contributed to shape my trading behavior. The more quantitative courses – like Fixed Income or Computational Finance in C++ have allowed me, on a day-to-day basis, to challenge the quants and their modeling. On the other hand, more behavioral or theoretical courses like Game Theory and Theoretical Machine Learning have helped me to think differently and have more than one tool at my disposal.
The diversity of students and their career interests was also very important. Everybody shared their previous internship and job experiences with each other, which was hugely helpful for figuring out what I'd like to do after Princeton. Being able to work one-on-one with a dedicated career development specialist at BCF was integral to preparing me for my current path as well: I remember having almost weekly meetings with my career coach during the recruiting season to better understand the U.S. recruitment process in finance.
Bracken: As an active member of our talented and robust alumni network, how have you stayed connected with Princeton BCF? Have you had any experiences with alumni, peers, or current students that stand out as especially meaningful to you?
Fiorentino: The BCF and Princeton in general have put me in the best position to stay connected: the bootcamp, the mentor/mentee program, and, more broadly, the yearly reunion in May all offer a variety of opportunities to stay involved. One of my best experiences as an alumnus was coming back on campus to host a recruiting session and seeing how passionate and talented the new generation is. I am proud to work alongside some of them today.
Bracken: What advice do you have for current Master in Finance students as they look toward the next step in their career?
Fiorentino: The main advice I would give is to lean on alumni: we have been in your shoes, and we know it isn't easy to make the jump to the working world. Reach out to us, especially during your first four months of the MFin program. The more you talk to people, the better sense you will get of the role and opportunities available to you. Then, I would say that when you are determining what it is that you want to work on post-Princeton, you should know yourself and work on something you are passionate about. Make sure the culture and the people you will work with are a good fit for you. You want to be there for the long run.