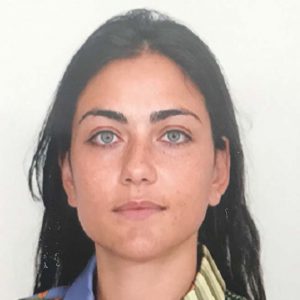 If Veronica Fegatilli could describe her career path in one word, it would be "uncommon." After graduating with both a bachelor's and a master's degree from Bocconi University, Fegatilli spent two years working as a risk management analyst and researcher in Italy, specializing in both the sell side and central banking. By the time she joined Princeton BCF's Master in Finance program in 2018, she was more experienced than many of her peers
It was precisely because of her experience that Fegatilli was able to take full advantage of the opportunities Princeton had to offer. Since graduating in 2020, she has joined Capula as a volatility trader and remains an enthusiastic member of BCF's alumni network.
In this short interview, Lindsay Bracken, BCF's Manager of Career Development and External Relations talks to Fegatilli about her path to Princeton and where she is now, one year out of BCF's program.
If you're a Princeton BCF alumnus who's reached a milestone in your career, we'd love to hear from you. Reach out to Bracken (lbracken@princeton.edu) to stay in touch and tell your story.
Bracken: Why did you decide to pursue a second master's degree at Princeton BCF? How did it fit into your career plan?
Fegatilli: I decided to pursue a second master's degree at Princeton BCF because I wanted to join the buy side investment industry as a quantitative trader. To do that, I needed to become more quantitative—learning how to code well was a top priority for me. Princeton ticked all the boxes and more. In addition to strengthening my quantitative skillset, BCF also helped me to get international exposure, build a solid professional network, and compete in a very challenging and ever-changing environment.
Bracken: What was it like graduating during the COVID-19 pandemic? How did that impact your career trajectory?
Fegatilli: Starting a new career during this pandemic has been difficult. Working from home has its clear advantages, but as a junior trader, face-to-face interactions with my managers and peers are absolutely fundamental to my growth. For someone like me, who is always eager to learn and learn quickly, working in COVID times has slowed down the person-to-person learning process. At the same time, it has forced me to build my own learning curve by challenging me to not outsource even a single crumb of knowledge. This has made me more independent and reliable as a contributor to my team.
As for graduation—I missed throwing my cap in the air!
Bracken: What has been your most memorable experience or most unexpected lesson learned since graduating in 2020?
Fegatilli: This past year has taught me to never let your guard down. For months, COVID-19 and the financial markets have been telling everyone, "When you think all is done, it is actually just getting started!" Truthfully, we all need to cope with uncertainty, every day and in every aspect of our lives. The important thing is to not lose control or let external influences affect your actions. Someone once said, "Decisions based on emotions aren't decisions at all!"
Bracken: What courses or experiences from your time at Princeton BCF have proven most valuable to you as you entered this new phase of your career?
Fegatilli: My two years at Princeton were all about respecting deadlines. When you work in such a dynamic and competitive environment, you cannot afford to miss your duties or be late. You are 100% responsible for your time and your results. The Master in Finance program at Princeton helped me to develop a more consistent approach in managing my time, identifying my priorities, and being detailed without forgetting my overall goal. Moreover, my classmates were (and are) a HUGE value: being surrounded by such sharp and brilliant minds pushed me beyond my limits. Now, I am conscious of the value I bring to my workplace and am ready to compete without fear.
Bracken: What advice do you have for current or future Master in Finance students as they look toward the next step in their career?
Fegatilli: Do not be afraid to dare! Keep up with technology, practice interviewing even after you get a full-time job, be curious, ask questions without fear of looking silly, respect roles and responsibilities, and be reliable. The finance world is like a love story: the other party needs to be able to trust you!