Congratulations to this year's Princeton Fed Challenge team on winning first place in the 2022 College Fed Challenge competition! The Federal Reserve Board announced this year's winner on November 18. Video and photos from this year's challenge will be posted to the Federal Reserve's website.
Eighty-four universities from across the country participated in the national competition, with eighteen teams selected as semi-finalists, six teams selected as finalists, and one team—Princeton—winning the top national prize. The University of North Carolina at Wilmington won the second place prize and Dartmouth College came in third place. Colgate University, the University of Notre Dame, and the University of California-Los Angeles (UCLA) were given honorable mentions.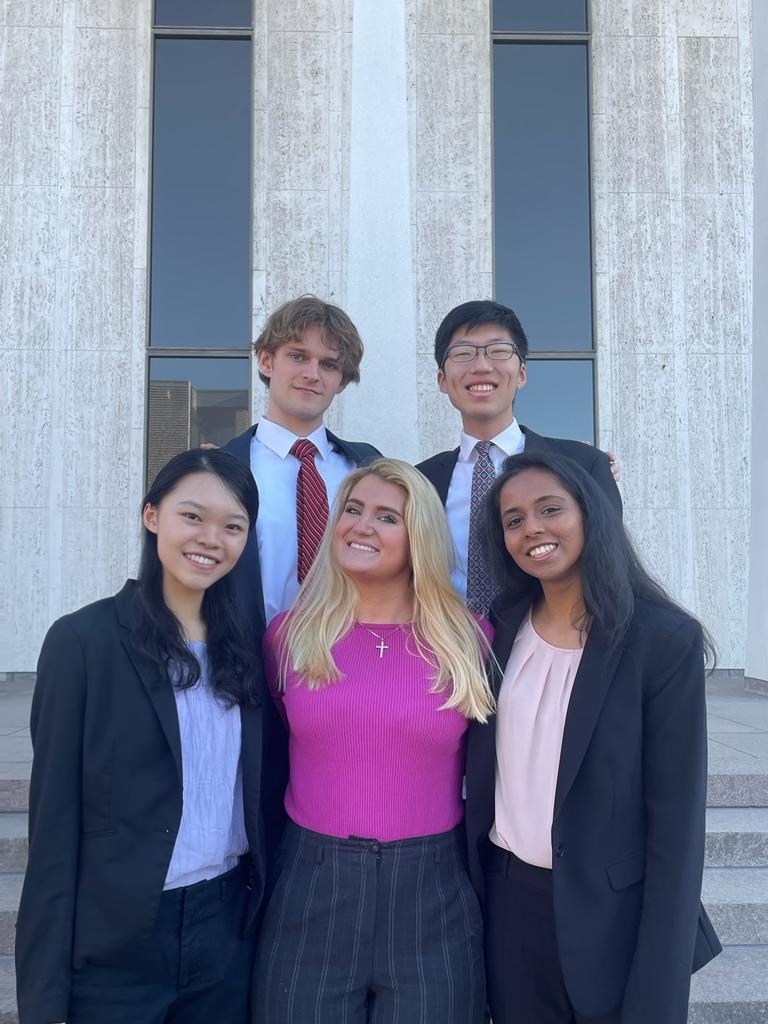 This year's team is the first Princeton team to take home the top prize in the annual competition where college teams analyze economic and financial conditions and formulate a monetary policy recommendation. Thirty Princeton students contributed to building the team's final presentation, with five students presenting the recommendations to judges on behalf of the full team. The presenters (pictured here from left to right) were Shirley Ren ('24 and team co-captain), Noah Harrigan ('24), Lauren Fahlberg ('24), Richard Zhu ('23), and Shivani Prusty ('23 and team co-captain).
This year's team was advised by three former central bankers, including Princeton Professor and former Federal Reserve Vice Chair Alan Blinder, former New York Fed President Bill Dudley, and former Senior Deputy Governor of the Bank of Canada Carolyn Wilkins. Both Dudley and Wilkins serve as research scholars with Princeton's Griswold Center for Economic Policy Studies. Wilkins also currently serves as an external member of the Financial Policy Committee at the Bank of England. Dudley is chair of the Bretton Woods Committee.
"We are so proud of this team," said Professor Blinder when he heard the news. "Princeton teams have been trying to climb the mountain for years. We've come close, but never made it to number one until now. The team members deserve all the credit for their hard work and smarts."
The team spent months researching the current state of the economy and surrounding academic literature. Ultimately, their presentation—which simulated a Federal Open Market Committee (FOMC) meeting—recommended a 75 basis point hike of the target federal funds rate, continuing balance sheet normalization at the pre-specified pace, and forward guidance messaging reflecting the Fed's commitment to anchoring inflationary expectations.
"Right now is an especially interesting and intellectually stimulating time to analyze central bank policy given the unprecedented situation with high inflation, an overheating labor market, and volatile growth prospects," said team co-captain Shivani Prusti.
"It was a special privilege to learn from our amazing advisors, Professor Alan Blinder, William Dudley, and Carolyn Wilkins, seasoned central bankers who have significantly shaped monetary policy," Prusti continued. "Despite their busy schedules, they always made time for us and shared their invaluable insights and feedback on our presentation and we are so thankful to have them."
Prusti also thanked Dana Molina and the staff at the Griswold Center for their support. "We walked away from the competition with a much deeper understanding of the intricacies of the Federal Reserve and regardless of the result, the experience itself was all worth it because of our advisors and the overall team."
The full team roster is included below. More information on current and past Princeton Fed Challenge teams can be found on the Griswold Center website. Congratulations to this year's team on a well-deserved honor!
2022 Princeton Team Roster
Charlotte Acra '24
Joseph Becker '23
Amanda Branom '25
David Cabrera '25
Sydney Eck '24
Lauren Fahlberg '24
Amichai Feit '23
Noah Harrigan '24
Antek Hasiura '24
Ben Knell '25
Catherine Kruse '23
JC Martinez '23
Anais Mobarak '25
Georgia Nabors '23
Justin Ong '24
David Piegaro '25
Shivani Prusty '23
Laya Reddy '25
Shirley Ren '24
Daniel Rodriguez '25
Maya Satchell '24
Grace Tan '23
Abhi Vellore '25
Bracklinn Williams '25
Melissa Woo '24
Jia Yu '23
Oliver Zhong '25
Richard Zhu '23